Other Aquatics :: Crabs ::
Flower Crab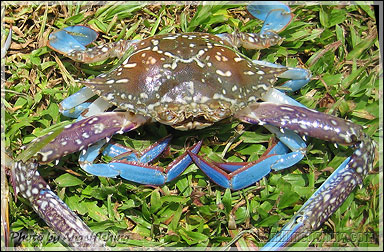 Common Name(s): Flower Crab, Blue Swimming Crab
Scientific Name: Portunus Pelagicus
Local Name(s): [Md]花蟹(Hua1 Xie4), [Hk] Chee, [My]Ketam Bunga
Precaution: Pincers
Edible: Yes
A very common crab found all round the shore. Favours sandy beaches but can be found in muddy seabeds as well. Besides the abdomen difference, males are blue in colour while females are green or brown in colour.