Saint John's and Lazarus Island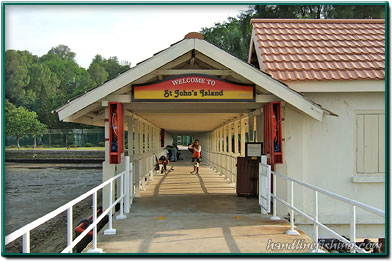 St John's Island and Lazarus Island are two of the Southern Islands marked for recreational development. These two islands are rich in natural fauna and flora, in and out of water. Many species of fishes can be found here, especially reef fishes such as tuskfishes. It is not only a fun place to fish but also a relaxing retreat from city life.
Note that recreational Southern Islands including Saint John's and Lazarus Island are managed by Sentosa. Chalets are also available on the island and can be booked through Sentosa. Details can be found on Sentosa website. Lazarus Island is currently under construction, public is discouraged from entering the island.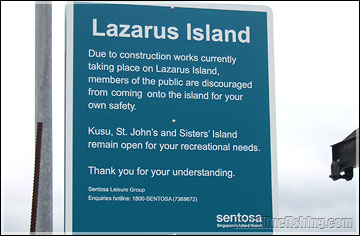 Map of the Island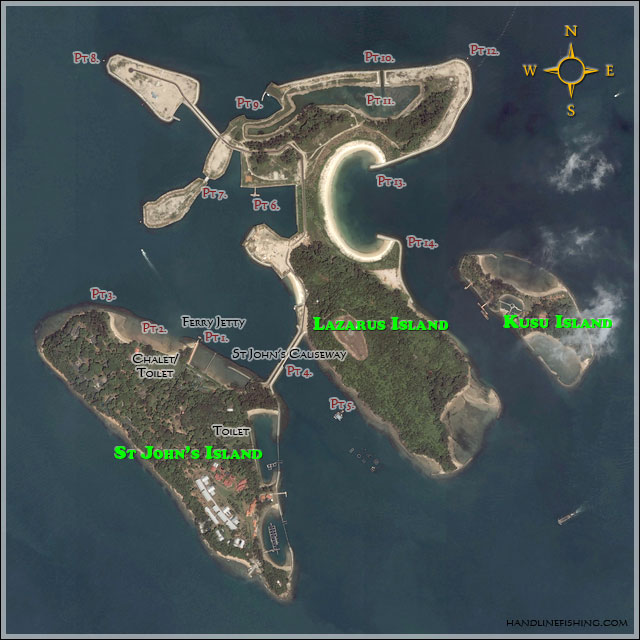 To get to St John's Island, take a ferry from Marina South Pier. (Ferry service from Singapore Island Cruise) A two way ticket costs 15 dollars for adults and 12 dollars for children under 12. The ferry Schedule can be found at this website. Bus service 402 goes into to the Pier from Marina Bay MRT Station. Parking lots are available inside and outside the pier subjected to typical parking rates. Tickets are bought at the pier itself, there are shops were you can buy food and drinks.
| | |
| --- | --- |
| Marina South Pier | Ticketing Booth |
Island Cruise have quite a few ferries ready and is capable of ferrying large volume of passengers such as during the Kusu Pilgrimage season. Should the first ferry is full, another ferry will be deployed immediately. The ferry will stop over at first St John's Island before moving to Kusu Island, and finally back to Marina South Pier. Take note of the ferry departure times, especially if you're catching the last one.
| | |
| --- | --- |
| Island Cruise Ferry | Pt 1: St John's Ferry Jetty |
St John's Island has very limited places to fish because a big part of the island is occupied by a marine research institute while other parts of the shore is rocky and steep and not accessible during high tide. Only part of the shore facing Lazarus Island seems suitable for fishing which comprises of a stretch of breakwater that runs across the lagoon to the corner of the island. The good thing about fishing along this limited area is shade and close proximity to toilet and the ferry jetty. This stretch of breakwater is suitable for luring as well as surf fishing.
The jetty itself is actually a very good spot to fish but note that there's a no fishing sign. The jetty has decent depth and source of bait fish such as selars and tambans, squids can be caught here as well. Potential fishes include Barramundi, Golden Snapper, grouper, bream and sicklefish.

| | |
| --- | --- |
| Pt 2: Lagoon at St John's Island | Pt 3: Corner of St John's Island |
The St John's causeway is the most obvious spot any angler would want to try out. It is a stretch of path that connects St John's Island and Lazarus Island. In the middle of the causeway is a narrow channel for water to pass through, the current is almost always strong, with short window of favourable current during the change of tide.
Pt 4: St John's Causeway

The causeway has a very nice paved road that leads all the way into Lazarus Island that is on its way developing into a major resort/chalet. Along the the causeway are four small view platform which you can rest or 'take shelter' from bad weather. It gives a slight reach out making it easier to fish than from the breakwater itself. The entire stretch along the breakwater is shallow and rocky which can be a nightmare for bottom fishing.
Although the current might seem strong most of the time, it is actually quite favourable for fast swimming fishes such as Needlefish, Halfbeak, Queenfish, Barracuda, Mackerel and sometimes Barramundi. Use of artificial lure is effective in these conditions. When the current is slow, there will be chances of landing groupers, snappers and tuskfishes on bottom fishing.
| | |
| --- | --- |
| Pt 4: Causeway Path | Pt 4: Current at the causeway can be extremely strong |
Standing on the causeway, you'll not miss the stretch of beautiful rocky shore along Lazarus Island. This part of the island is only accessible during low tide. During high tide, water level reaches to the trees making it almost impossible to walk. This part is potentially good for luring groupers and barramundis. Be mindful of the tide timings when fishing along this shore.
Pt 5: A hillside with dense vegetation, accessible only during low tide

Moving into Lazarus Island, you'll see a bay with seawall. This is a great place to fish if you have to hide from strong winds, wave or current. Although this may look like a small place, it is one of the deepest spot around the island. The depth at the pontoon is at least 30 feet and perhaps deeper further out. There's a warning sign at its entrance not to enter the pontoon. The bay itself is has very little or no current flow due to its sheltered nature. Typical fishes that can be caught here includes halfbeaks, breams, groupers and golden snappers.
Just opposite the pontoon is a small bridge connecting to a stretch of reclaimed land. The small bridge is directly affected by the mainstream current as that of the causeway. It's surrounding is pretty shallow and rocky, good spot for tuskfish and groupers.
| | |
| --- | --- |
| Pt 6: A closed pontoon | Pt 7: A small bridge |
If you follow the paved road to its end, you'll reach this reclaimed part of the island that arches out towards mainland. The arch causes strong current at its tip where the red beacon is. Spot is suitable for surf fishing but be cautious of boats passing close to this beacon. Possible fishes include groupers, tuskfishes and sharks.
Moving eastwards brings you to a very small concrete bay with a platform extending out. It is shallow within the bay but casting out towards mainland will give considerable depth. This area can be affected by strong current depending how far you cast out.
| | |
| --- | --- |
| Pt 8: A reclaimed portion of the island | Pt 9: An extended platform |
This stretch of shore is one of the furthest away from St John's Jetty so it'll take quite a bit of walking to reach here. It has multiple small platform along breakwater. There's a small opening that leads into a stretch of small pond within the island. During very low tide, this 'canal' is completely dry. Surrounding the breakwater is a stretch of reef that can easily be overcome by a surf set.
Pt 10: Small platforms along shore facing Singapore Island

Into this canal is an inlet that is shallow with muddy bed. It looks almost like a spot that harbours Barramundi, with prescence of mullet schools. Further at the corner of the island is another red beacon also suitable for surf fishing.
| | |
| --- | --- |
| Pt 11: An inlet that leads to the sea | Pt 12: A red beacon |
There's a big lagoon at the back of Lazarus Island with clean beach and clean water, favourite spot for boaters and jet skiers. The lagoon is sandy with a gentle gradient deepening outwards. The two corners of the lagoon consists of breakwaters with reefs surrounding them. The side of breakwater closer to Kusu Island is largely affected by strong current from the channel between Lazarus and Kusu. Potential catches around this vicinity includes sand whiting, rays, chermins, groupers and tuskfishes.
Watch out for water sports activities when fishing near this lagoon.
| | |
| --- | --- |
| Pt 13: Lazarus Lagoon | Pt 14: Lazarus Lagoon facing Kusu Island |
In all, Lazarus Island offers more places to fish, but only for limited period of time. When the construction works at Lazarus Island is complete, many of the areas will not be accessible for fishing. St John's and Lazarus Island both offers many variety of fishes with largely reef fishes. Throughout most of the islands are shallow and rocky, so surf tackles is almost essential, if not, luring tackles.
Fishing at St John's Island can be thoroughly enjoyed with several days stay at its chalet. The place is huge so take your time to explore different spots and try out different forms of fishing there. The beauty of the islands and its water alone are worthy of a visit.
When venturing into Lazarus Island, always bring more than sufficient water as there is no shade and it can get very hot during the day. Estimate enough time for you to get back to the ferry jetty in time and stay away from construction sites and heavy vehicles.
Happy Fishing.
---
Article and images contributed by an anonymous angler. Last update 19 February 2008