Bedok Jetty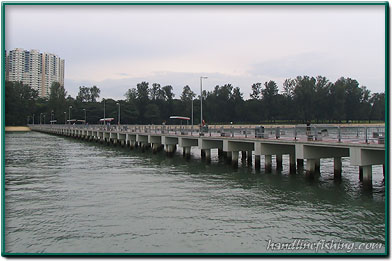 Bedok Jetty is the longest fishing jetty you'll find in Singapore, and probably the most popular one as well. It is located at East Coast Park, Area F. That means if you're getting there by car, you should park at carpark F1. Public bus service 401 that goes in to East Coast Park on weekends and public holidays only. Within East Coast Park, there are many amenities within the park such as recreation, entertainment and food centres that attracts alot of visitors daily. Therefore, the jetty itself will naturally have a good mixture of non-anglers and anglers.
The jetty itself used to be a pier for mlitary(?) use and was later converted to a jetty for public use. Six 'bus-stop' shelters are erected on the jetty, without seats. However, there are many stone seats outside the shelter enough for everyone. This is just as well because the shade shifts with the position of the sun anyway, it's actually more of a shelter for rain.
| | |
| --- | --- |
| Bus stop shelters on the jetty, but no seats within | Hey, it's shelter or seat, not both |
The jetty extends far out into the sea and can accomodate many anglers but we need to watch out for frequent passerbys when casting. Cyclists, rollerbladers, joggers or just about any park visitor may come to into the jetty. Similarly, anglers should take special care of their fishing equipment. Don't just leave your fishing rod on the ground for all you know it may just get run over by wheels or foot in seconds. Also, don't lose sight of your personal belongings. Bedok Jetty is a big place and it's easy to get too engrossed fishing while someone else runs away with your stuff.
View from the jetty entrance


Jigging for tamban is like a standard procedure for most anglers on Bedok jetty, be it if you're there for big or small fish. Tambans are very good bait for surfcasters and are very effective when used fresh/alive. Those who are new to fishing are often introduced to tamban jigging as they often provide instant action for the learning angler to keep their interest going.
Anglers jigging for tambans


Tambans scattered on the jetty floor


Fresh tambans that are caught as baits

Schools of tambans can often be seen swimming near the surface and can be easily idenitified by a patch of fine water turbulence. Usually when tambans surface, they're not as very ethusiastic in taking your feather jigs. You need to cast over the school and reel back to entice them to bite. If you aren't sure, simply observe the regulars there and follow what they do.
Tamban shoal near the surface


When fishing on the jetty, do take note that any kind of net fishing is not allowed on the jetty. It may be easy to catch baitfish that way but it is indeed a nuisance to other anglers. Nets stucked on the bottom of the jetty will trap and kill lots of fish as well as causing snags for other anglers fishing there. Netcasting are advised to be done at the beach.
Life buoys are placed along the railings of the jetty to be used in case of people falling into the sea. Please do not tamper with it unnecessary as they are required to be effectively and swiftly deployed in times of need.
| | |
| --- | --- |
| The prohibitions written on Signboard | Life buoys placed along the railings of the jetty |
Lots of species of fishes can be caught on Bedok Jetty. On surf fishing, you're likely to catch queenfish, mackerels and various types of herrings. On bottom fishing, you're likely to get stingrays, barracudas sharks, trevallies, marine catfishes, etc. You may find groupers, snappers and sea bass lurking under the jetty too, reaction must be fast when fishing near to the jetty for the fish might head for the pillars supporting the jetty. Pufferfishes are in abundance all around the jetty no matter where you seem to cast. They're excellent bait stealers and never seem to get enough, especially your expensive live prawns.
| | |
| --- | --- |
| A grouper caught by a fellow angler on the jetty | And also a huge pufferfish |
| A commonly targetted fish on floaters, Sai Toh (Ikan Parang) | Assortment of small fishes (Scad and Leatherjackets) |
Surfcasters usually fish near the end of the jetty where they like to throw further out towards the sea. Notice that the rods are always leaned on a low angle on the railing instead of a vertical position. This is done so that anglers can shift their rods over others easily when there is a line cross. Do take note that a recent circulation from MPA and Nparks prohibit watercrafts from entering 30 metres from bedok jetty. Likewise, anglers are not allowed to cast beyond the same distance from the jetty. This is to ensure the safety of both boaters and anglers.
Handlines are commonly used on the inner part of the jetty to fish for pelagic fishes, especially wolf herrings, mackerels and queenfish. The hand reels are secured to the railing and the line is deployed with usually a live bait on float. Often, it can be observed that the whole stretch of railing is occupied with hand reels deployed by just one or two anglers. Not exactly the best way of jetty fishing we should follow.
| | |
| --- | --- |
| Surfcasters at the extreme end of the jetty | Hand reel secured on the railings |
If you feel that you're having tough luck on the jetty or the place is too crowded, you may want to consider fishing along the beaches and breakwater just beside the jetty. The beach stretches far along the coast from both sides of the jetty with short stretch of numbered breakwaters at intervals. A surfcasting set is likely needed to fish at the beach to reach for the deeper parts of the water.
| | |
| --- | --- |
| The beach along East Coast Park | Breakwaters beside the jetty |
If all else fails, you may simply enjoy the view from the jetty or watch people who may have better luck that day. There's always more to see besides fish and water, east coast park is huge recreation/entertainment park afterall!
For more information on fishing on Bedok Jetty, go to the following websites to have a look:
- The Shore Angler
- Ken's Fishing Haven
- Melvin Ng's Website
---
created: 19 September 2006 updated: 19 September 2006